Trivial or otherwise, people are constantly expecting more from products and experiences. It's our job as designers, developers, even door makers, to challenge the status-quo and deliver quality user experiences, regardless of the product. One company which I think does this brilliantly is Disney; specifically Walt Disney Parks and Resorts. 
You could say I'm a big Disney fan. My family has travelled to Walt Disney World and Disneyland multiple times; my sister is currently on a year-long college program working as a Cast Member at Walt Disney World. As I've been fortunate enough to experience the 'world' multiple times, I can honestly say I've always had a brilliant guest experience.
The customer service, attention to detail and the level of technological sophistication combines to give guests a unique experience. So, what is it that Disney does which sets it apart from the competitors? And, what lessons can we, as designers and developers, learn from Disney and apply to our user experiences? Here are a few examples which perfectly illustrate user experience at its finest.
"You can dream, create, design and build the most wonderful place in the world. But it requires people to make the dream a reality." - Walt Disney
Mickey's Ten Commandments
Walt Disney was a revolutionary, possibly even one of the first UX Designers. He had a passion for bringing families experiences they could share together, which culminated in the building of Disneyland in 1955.
Sadly, Walt didn't live to see the opening of Walt Disney World in 1971, but his ideas and legacy are still at the heart and soul of Walt Disney Parks and Resorts. Marty Skylar, former President and Principal Creative Executive of Walt Disney Imagineering and one of Walt's most trusted advisors, formally documented key lessons from Disney into what is known as 'Mickey's Ten Commandments':
Know your audience – Don't bore people, talk down to them or lose them by assuming that they know what you know.
Wear your guest's shoes

– Insist that designers, staff and your board members experience your facility as visitors as often as possible.

Organise the flow of people and ideas

– Use good storytelling techniques, tell good stories not lectures, lay out your exhibit with a clear logic.

Create a weenie

– Lead visitors from one area to another by creating visual magnets and giving visitors rewards for making the journey.

Communicate with visual literacy

– Make good use of all the non-verbal ways of communication – colour, shape, form, texture.

Avoid overload

– Resist the temptation to tell too much, to have too many objects, don't force people to swallow more than they can digest, try to stimulate and provide guidance to those who want more.

Tell one story at a time

– If you have a lot of information divide it into distinct, logical, organised stories, people can absorb and retain information more clearly if the path to the next concept is clear and logical.

Avoid contradiction

– Clear institutional identity helps give you the competitive edge. The public needs to know who you are and what differentiates you from other institutions they may have seen.

For every ounce of treatment, provide a ton of fun

– How do you woo people from all other temptations? Give people plenty of opportunity to enjoy themselves by emphasising ways that let people participate in the experience and by making your environment rich and appealing to all senses.

Keep it up

 – Never underestimate the importance of cleanliness and routine maintenance, people expect to get a good show every time, people will comment more on broken and dirty stuff.
How do the Ten Commandments serve UX?
Wear your guests shoes – Crucial to good UX is an empathy for users. In my article on collaborative user research, I advocated for stakeholders to be hands-on in the design of their products.
Create a weenie – Visual magnets and rewards for completing a journey are concepts we can use when designing a purchase journey. Showing users where they are on the journey using a progress bar will give them an idea of what is expected of them. Gamification in UX is a huge talking point with more companies creating fun experiences to increase user engagement, such as Duolingo.
Avoid overload – Cognitive overload is an issue which can affect us all. We all know about the 'less is more' adage, but effectively applying this to our designs is often a challenge. In my article '4 Essentials for user research in 2018', I wrote about how accessibility is often neglected, and that we need to avoid information overload as this will deter many from using our product.
Keep it up – Broken links, old content, 404 errors; if you don't maintain your website, it will become outdated and harder for your users to navigate. No website will ever be perfect, so allow time to conduct a website audit, using tools such as Screaming Frog and SEO SiteCheckup.
Your Key to the World
Speaking of omnichannel experiences; Disney is pretty good at them too. At Walt Disney World, you can feel like you are in a 'bubble' where you leave the outside world. Disney has capitalised on this by developing a seamless experience for customers that caters for your every need while on holiday.
Magicbands, introduced to Walt Disney World in 2013 as the central part of the MyMagic+ Experience, are RFID controlled bracelets which are given to Disney Resort guests on arrival. In short, they are your 'Key to the World'. It's the key to your hotel room, your ticket into the parks, and your primary paying method while in Walt Disney World.
Customers no longer need to rummage around their backpacks trying to find park tickets, or find themselves locked out of their hotel room; keep your Magicband on and you're set.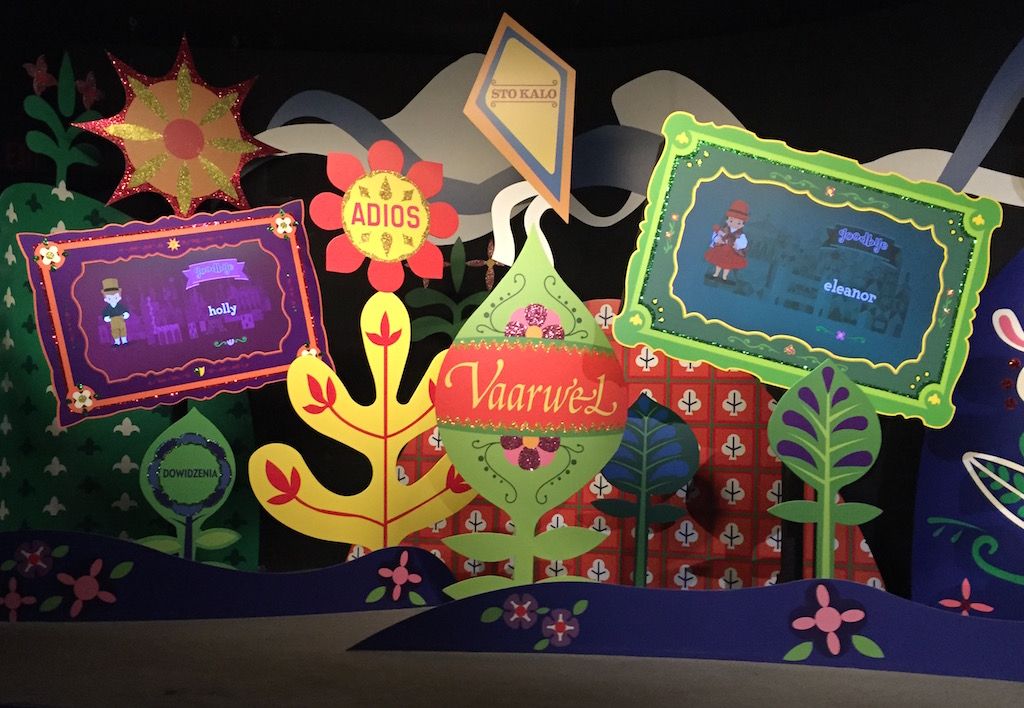 Internet of Things for experiences
Magicbands work like, well, magic. Using RFID and being connected to the My Disney Experience app on your phone, guests are given personal, seamless experiences. Here are some fun examples:
Personalisation: if you tap your Magicband when you enter 'It's a Small World', as you exit the ride your name will show up on a screen.
Some attractions have on-ride photography. If you tap your band as you enter, once you exit the ride, your photo will be available for download on the My Disney Experience app.
If you make a reservation at a restaurant and you're wearing your Magicband when you show up, a host will greet you and already know your name.
So, what can Magicbands teach us about good user experience? Nick Franklin, who oversaw the project, summed it up perfectly:
"What people call the Internet of Things is just a technological underpinning that misses the point. This is about the experiential Internet. The guest doesn't need to know how it happened." - Nick Franklin
So, while not every company has the same budget as Disney (the MyMagic+ Experience system cost $1 billion to develop!), we can still apply the principles of their seamless experience to our products, regardless of the amount of technology at our disposal. For example, a 2015 campaign by Battersea Dogs & Cats Home used RFID to activate digital billboards showing images of rescue dogs. The campaign increased website visits by more than 35%.
Disney's Four Keys
Quintessential to the guest experience at a Walt Disney Park or Resort are the employees (known as Cast Members). The "Disney Experience" is unique, and Cast Members are expected to give guests unparalleled customer service. In training, Cast Members are taught The Four Keys – four words they follow as their service standards when interacting with guests:
Safety
I practice safe behaviours in everything I do.
I take action to always put safety first.
I speak up to ensure the safety of others.
Courtesy
I project a positive image and energy.
I am courteous and respectful to guests of all ages.
I go above and beyond to exceed guest expectations.
Show
I stay in character and perform my role in the show.
I ensure my area is show-ready at all times.
Efficiency
I perform my role efficiently, so guests get the most out of their visit.
I use my time and resources wisely.
Having a positive Cast Member experience makes guests feel special and will stay with them, well after they have returned home. That's the feeling we should strive for when creating digital experiences for users. Considering the user, going above and beyond with an efficient route to a goal will lead to deeper brand loyalty with users returning because they enjoyed the experience.
Conclusion
Visiting a Walt Disney park or resort is special; you get to escape reality and enjoy a high quality, seamless experience. Disney's attention to detail and user-centred approach to the design and development of their parks and resorts sets them apart from the competition. Nothing is impossible, and they are constantly exploring other ways to enhance a guest's visit. As designers, developers, even door makers, we can take these principles into our current products and beyond. As Walt Disney once said: "Disneyland will never be completed. It will continue to grow as long as there is imagination left in the world". So, let's keep moving forward.