The looming recession follows the relatively recent recession of 2008 and arrives straight out the back of the economic pressures delivered by the COVID pandemic, as many businesses are still very much in recovery mode. 
But, while times of recession are extremely turbulent and in which many businesses fail, there are some that thrive in this environment. Big winners from the 2008 recession include discount supermarkets like Aldi and Lidl, whose core low-price propositions tempted new customers into their stores. Customers who then stayed through and beyond economic recovery. 
While it appears obvious that discounters perform well in a recession, recent recessions have shown that "guilty pleasure" products tend to be profitable. When more substantial purchases like holidays, electronics, new cars, etc. are out of reach, people console themselves with smaller treat purchases of things like alcohol and confectionery. Other sectors that perform well include healthcare, food, consumer staples, and basic transportation.
While a recession is very much a gloomy prospect, the economy will recover, so making smart decisions and adjustments now, could make you a winner, or at the very least will position your business as positively as possible for when it inevitably does.
There are lots of approaches businesses can use to fight off the impact of a recession, but instead of a focus on reductive steps, we'd like to present alternative approaches that can help your business become a winner in a recession:
Redefine your relevance in this climate
You may have been selling your existing products and services for years, or even decades. In the heat of a recession, your customers are rethinking how they spend their money and on what. 
Your challenge is to refresh your proposition and think carefully about how/why your product or service is still relevant and beneficial in the current economic climate. 
How might you refresh your proposition and/or products/services that would appeal to customers and generate new interest in your offerings?
What new features/benefits could you offer that would make customers re-evaluate their current choices?
How might you make your products and services more attractive so customers feel they are still getting good value for money?
Where to start on refreshing your current proposition
Speak to your customers 
Start by speaking to your customers and use methods and approaches such as Jobs to Be Done to separate customer needs from solutions to gain a deep understanding of customers' underlying motivations. 
Map your proposition 
Once you understand what's important to your customers, use the Value Proposition Canvas to map your proposition against customer need. This will allow you to identify gaps in your proposition.
Address new market changes in your roadmap to identify your strongest initiatives right now 
When the economy is booming, businesses expand their roadmaps, in order to take advantage of the increasing demand for their products and services.
But as the economy contracts, your prioritisation parameters may need adjustment. A sensible move is to re-prioritise your roadmaps to focus on initiatives that are stronger in times of economic pressure, alongside rethinking how products/services and features are created. 
How might you adjust your prioritisation criteria to take into account market changes?
What initiatives do you bring forward and what do you pause?
How might you launch features differently to reduce the cost of the business and customer?
Where to start on reprioritising your roadmap
Businesses are rarely short of great ideas, but they often struggle to make decisions on what to tackle first and why. Two things usually happen:
Loudest person wins -  ideas get taken forward by force alone, regardless of any real evidence or robust strategy to justify the decision
Prioritisation paralysis - nothing moves, as a result of having no way to make decisions across a complex portfolio of initiatives. We spoke about that in a post around decision paralysis at the beginning of the Covid-19 pandemic.
To combat this you need to build a robust mechanism and criteria for quickly assessing your initiatives to prioritise them. If you already have a method, think about where you may need to tweak or change criteria to take into account for market conditions. Criteria should be a mix of what's important to your business, but also what's important to your customers.
Streamline and consolidate existing solutions to be more efficient with your resources
As businesses grow, they build solutions and support processes that are right for that time. In many cases, these solutions are no longer fit for purpose, leading to duplication, waste and a drain on resources.
During a recession, it's likely that your customers are trying to cut their own 'cost of operations' so anything considered unnecessary that can be reduced or eliminated could make a significant difference to their bottom line. 
For more insight into that, you might like to see the four different kinds of psychological perspectives people have in relation to purchasing goods during times when money is tight.
Likewise, if you are experiencing financial pressures, you may need to cut costs by streamlining and consolidating your existing solutions. If you have several different ways of solving a problem, such as methods used to process payments, manage user accounts or store data for example, it makes sense to streamline these so you don't have to put additional effort into managing them all, when they may only be slightly different from one another. Consolidating your solutions could reduce your costs by allowing you to make more efficient use of your resources, such as your staff and equipment.
How might you identify areas of duplication or waste?
What and where are your biggest drain on resources?
How might you remove duplication and reduce waste?
Where to start on streamlining your existing solutions
Audit what you have 
Start by auditing and mapping your ecosystem of products and services. This should be a mix of technology, process and journey maps. You're looking to identify areas of overlap and duplication.
Take a strategic view 
Once you understand where you are, you need to think about where you are going. Which of those technologies could you swap out in favour of some that fulfil multiple jobs? where can you reduce costs in the process? How can you do all of this while improving experiences for your customers? 
Prioritise action
Use a prioritisation method to decide where to take action and in what order. Which changes will have the biggest impact? Of these, which is easiest/cheapest/fastest? 
Generate additional income by creating new revenue streams to ride out the recession
As businesses struggle to stay afloat during a recession, they are often forced to cut their marketing and advertising spending, as well as their investment in new product development. These are important activities that are vital to the long-term success of a company. However, in the short-term, they are likely to add to a company's financial burden, which is one of the reasons that companies feel pressured to cut these costs. 
Instead of reducing these activities, though, companies should be looking for ways to offset their costs by increasing another revenue stream. What new revenue stream could your company create to help it ride out the recession? How could you diversify your offerings to include something new that customers may want to purchase? What other products or services could you offer that would generate additional income? What events or activities could you host that would bring in new revenue?
Most businesses are structured and measured on delivering today's solutions, this means, if we use the McKinsey Three Horizons of Innovation, that it's difficult to move beyond Horizon One type of innovation, which is iterative improvements on current solutions. I spoke more in-depth about this in my article on disruptive innovation. But new revenue streams are more likely to be born out of horizon two and three type innovation. 
How might you identify opportunities for new revenue streams?
Where do you have permission to play?
How might you quickly validate which opportunities to go after?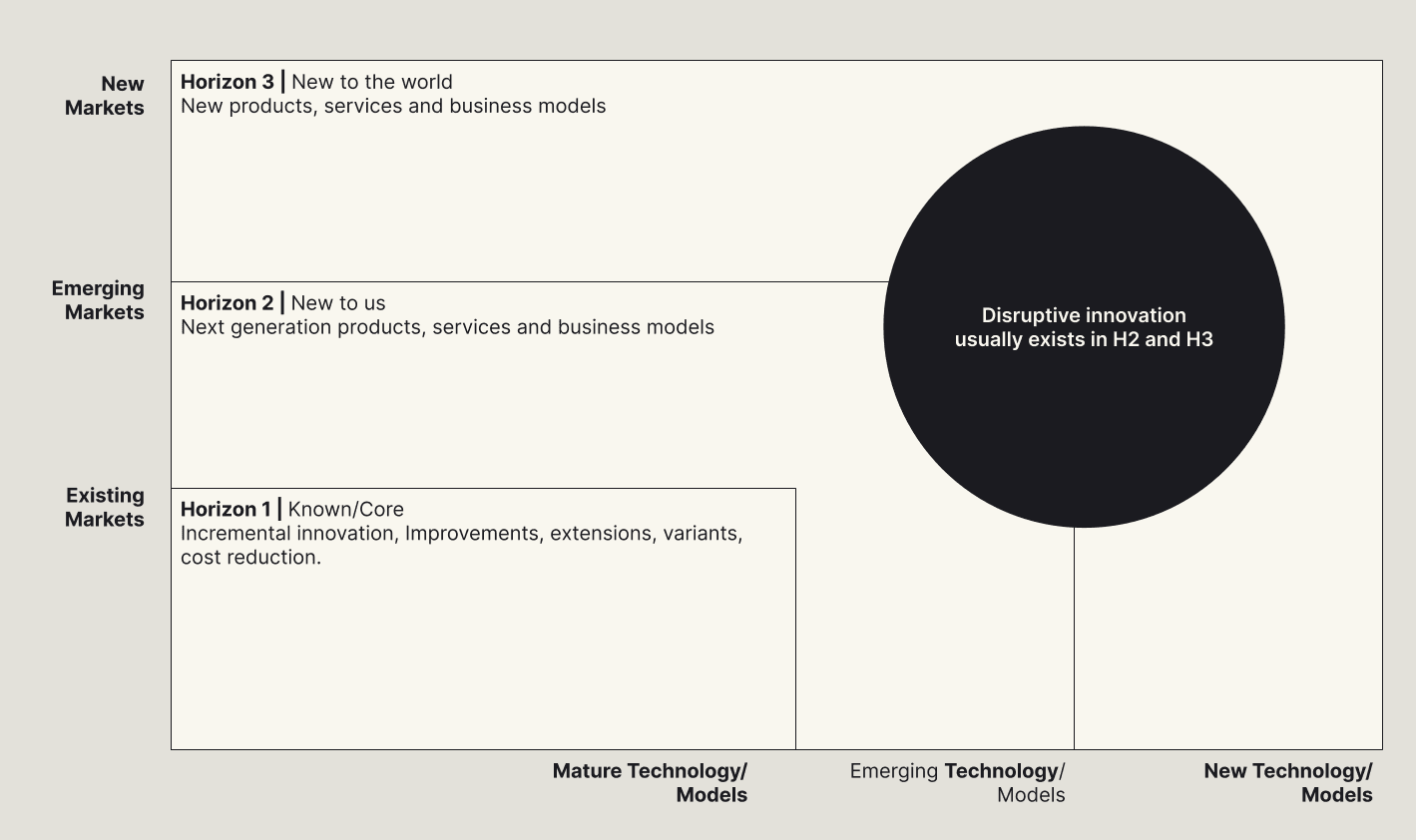 Where to start on creating new revenue streams
Market Research 
Start by undertaking some market research, this should be a combination of:
Business model - map and review your current business model(s)
Proposition - map and review your current value proposition(s)
Customer insights - what are the macro and micro trends?
Competitor analysis - what are your direct and indirect competitors doing?
Technology - what new or emerging technologies are available?
Channels - where are your customers?
Permission - where are the adjacent areas of opportunity in which your existing brand has permission to play?
 
Ideation and validation
Once you understand the market opportunities, your need to generate ideas for solutions and then test them to validate your concepts on three points:
Desirability - do enough people want your solution?
Viability - can you generate enough value from your solution?
Feasibility - can you deliver your solution and still realise enough value?
To recap, here are four ways to tackle the challenges that the economic recession is bringing your way, beyond simply cutting costs:
Redefine your relevance in this climate
Address new market changes in your roadmap to identify your strongest initiatives right now
Streamline and consolidate existing solutions to be more efficient with your resources
Generate additional income by creating new revenue streams to ride out the recession
When the economy goes into recession, it's important for businesses to adjust their strategies to account for the reduced spending. One of the best ways to deal with a recession is to make sure that you're prepared for it beforehand. 
If you're keen to get that started, we have a toolbox of solutions that are designed to gain deep customer understanding, build winning propositions, prioritise business initiatives, streamline processes and validate and create new revenue streams. 
Reach out to us on hello@freestyle.agency for a free, no-obligation chat about your challenges and how we can help you to thrive in a recession and beyond.

Author: Ritchie Brett, Strategy Director at Freestyle
Ritchie works with brands to make sure they stay relevant in a time of enormous competition and disruption. He has over a decade of product strategy experience, creating innovative products and services across a range of sectors including healthcare, financial services, FMCG, government, automotive, entertainment, food & beverage, education and charity.
At Freestyle, we partner with organisations to help them evolve their business and customer experiences for the future, by building venturing capability and creating new products and services.
If you're ready to have a chat about how we can help you innovate, drop us a line: hello@freestyle.agency